Suggest a pet name to go into this month's draw!
Join our Facebook community
Lots of fun pet news, jokes and pics...'Like' us & your pet could even become our newest 'Pet of the Week'!
Top 20 names
Need some inspiration? Check out our lists of the top dog and cat names.
Get Pet Talk E News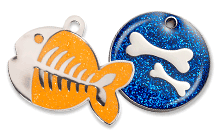 Find the right tag for your pet